How to create a Blog or Blogspot and Earn Money
Blogger is a free blogging platform while BlogSpot is a free domain name service provider. Both are owned by Google and integrated with the Blogger platform: Google hosts your blog on their Blogger platform with the default BlogSpot domain.
Pro Info
It is entirely free;
Free Theme
Free SSL certificate;
Easier to use than other blogging platforms such as WordPress;
Faster indexing – Blogger sites appear in Google search results within 24 hours of publication;
Secure and reliable;
Easily integrates with other Google products;
Allows for extra earnings from display ads.
Here's how to start a blog on Blogger without paying for a domain name or hosting.
Step 1: Login to Blogger
Sign in with your Gmail username and password at http://www.blogger.com/home. If you don't have a Google account, you can create one for free and return it to the Blogger homepage. As long as Google owns Blogger, you will need a Gmail account to blog on the platform.
Step 2: Choose a name for your blog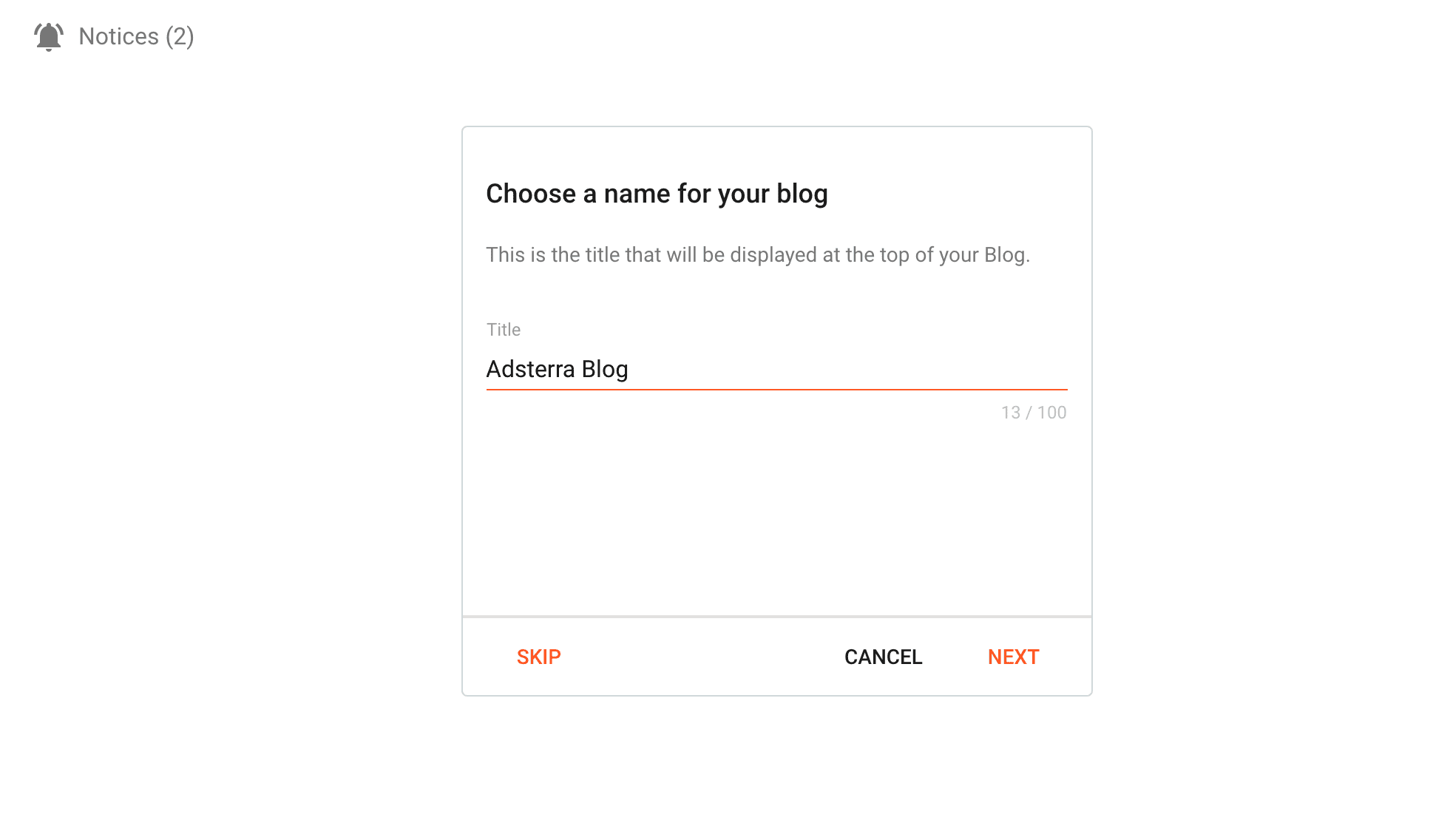 Step 3: Choose a URL for your blog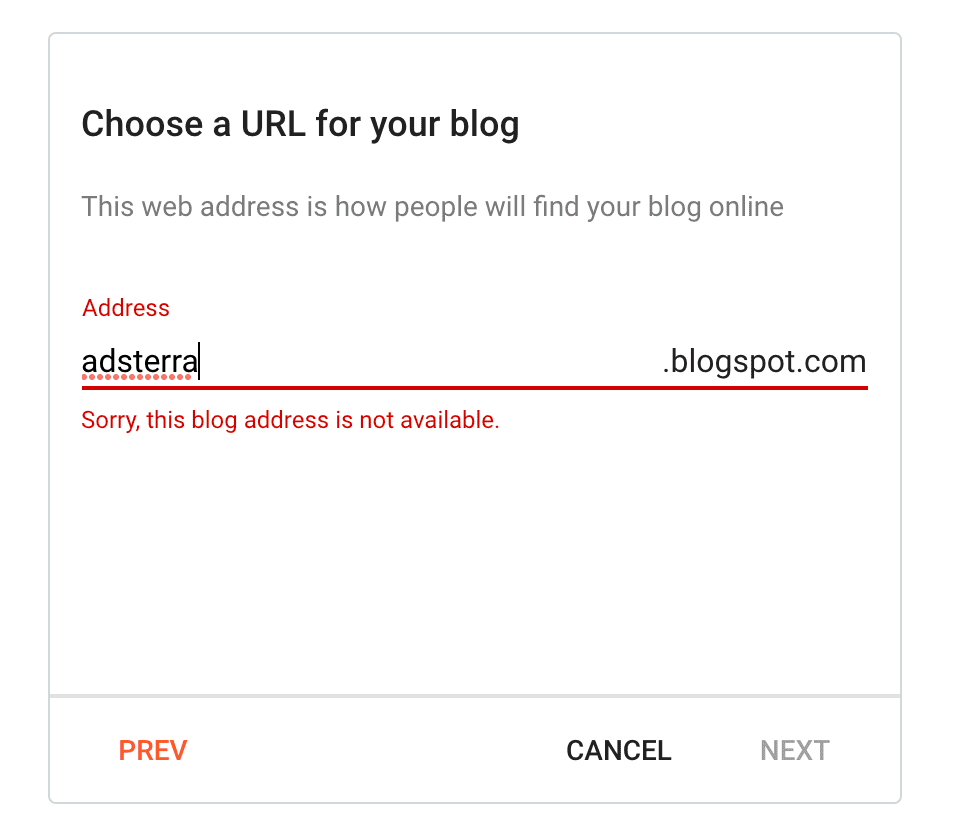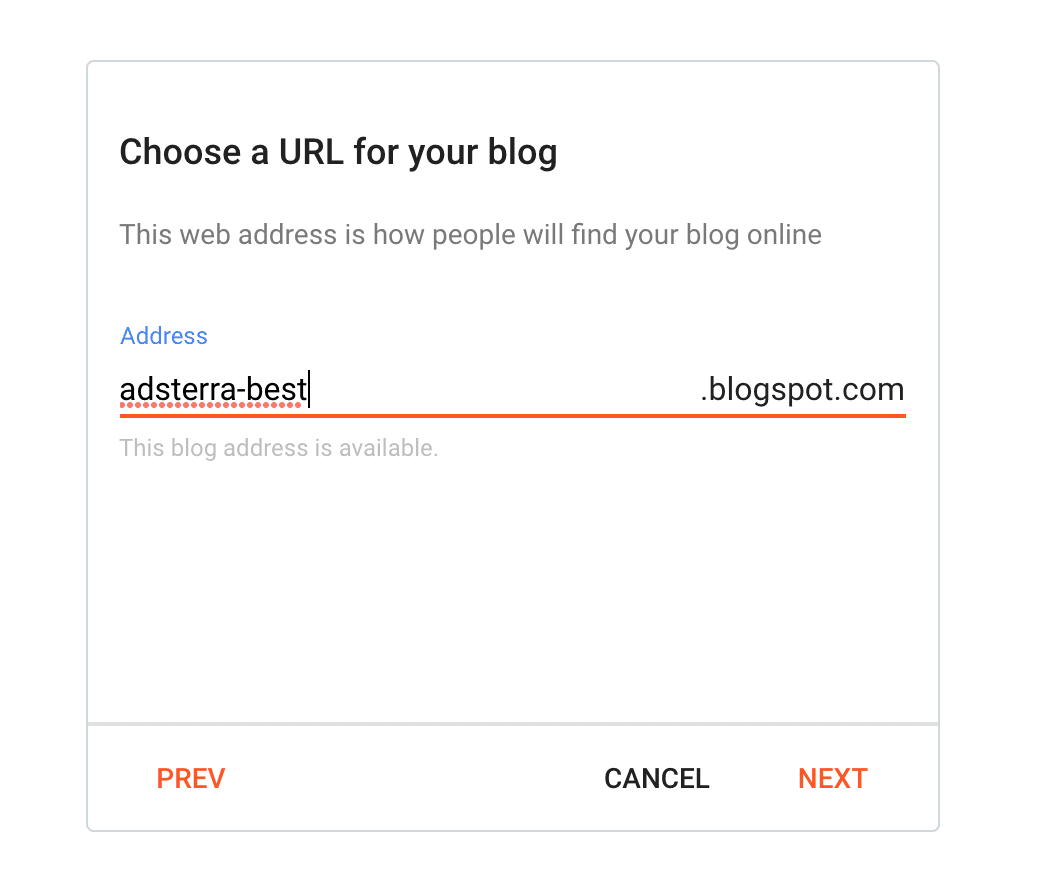 The domain name has to be unique, so it's possible the name you want is already taken. In this case, you will have to try another domain name until it says This blog address is available.
Step 4: Confirm your display name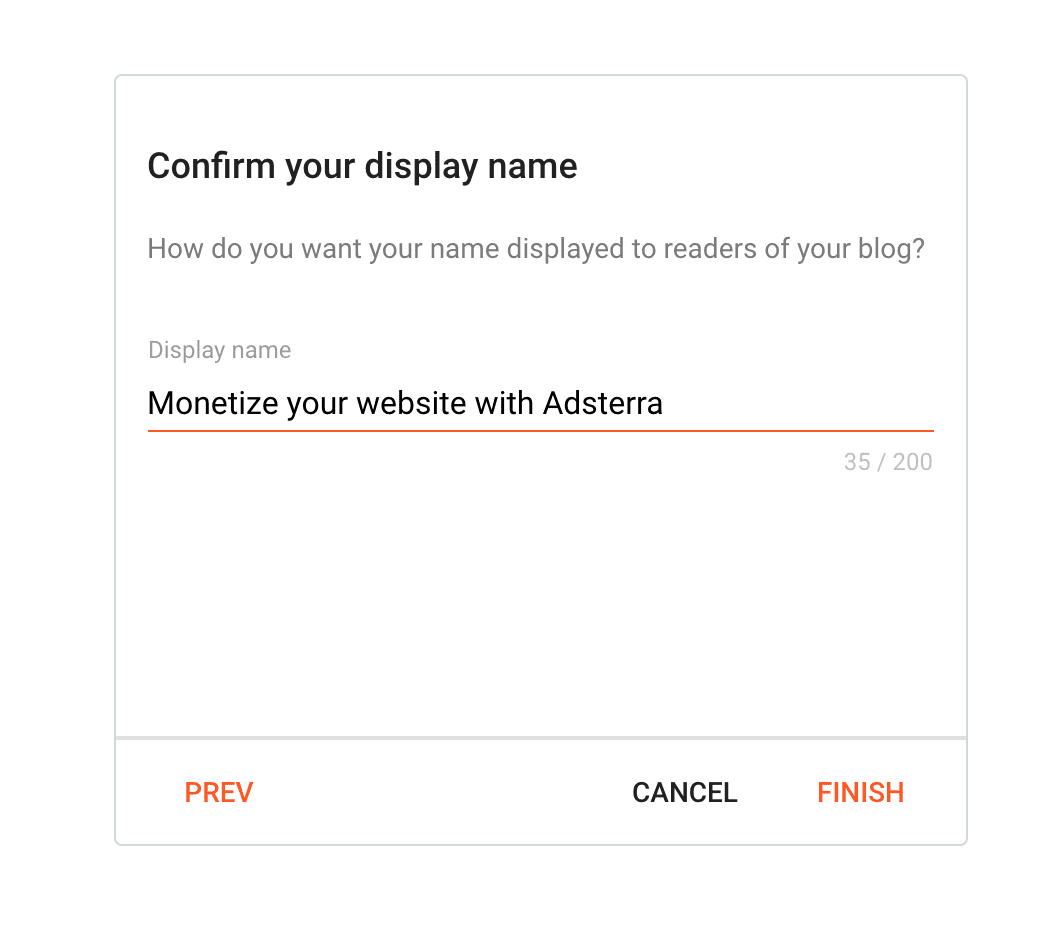 You can use a keyword in the display name to help your blog rank higher. For example, the screenshot above includes [Monetize Your Site]. Click Finish and you're ready to start blogging!
Step 5: Visit Your Website
Enter your new blog address in the address bar of your browser and you will see what your blogger website looks like. You might not like the look at first, but we'll show you how to modify its design to make it look good and professional.
How to change a theme on Blogger?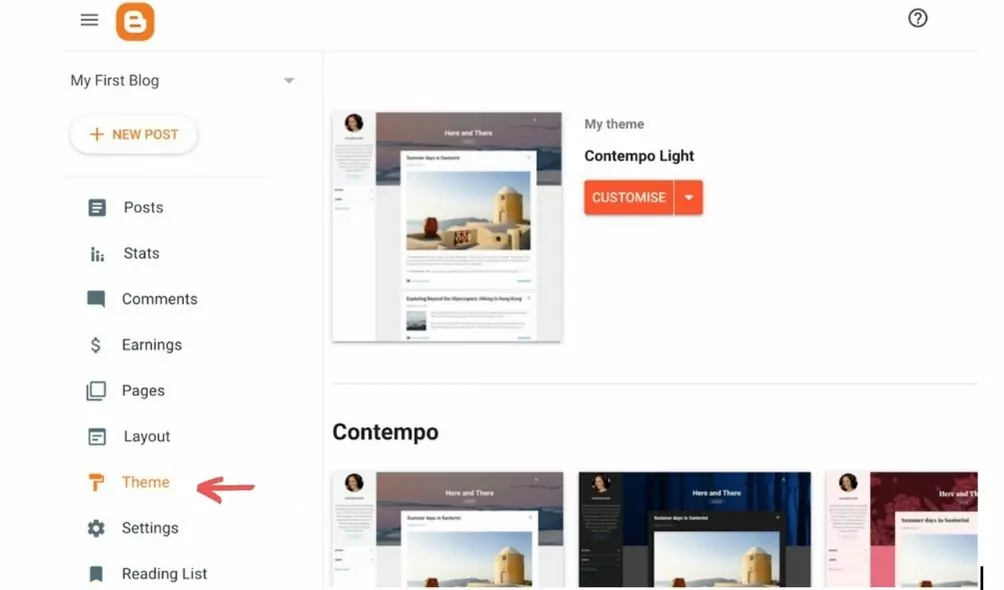 Go to Theme from the left-hand menu.
Scroll down to find the theme you want from the many options available.
There are a lot of Blogspot themes to choose from, but we recommend using Contempo, Soho, Emporio, Notable, or Essential. You can preview the theme before applying it.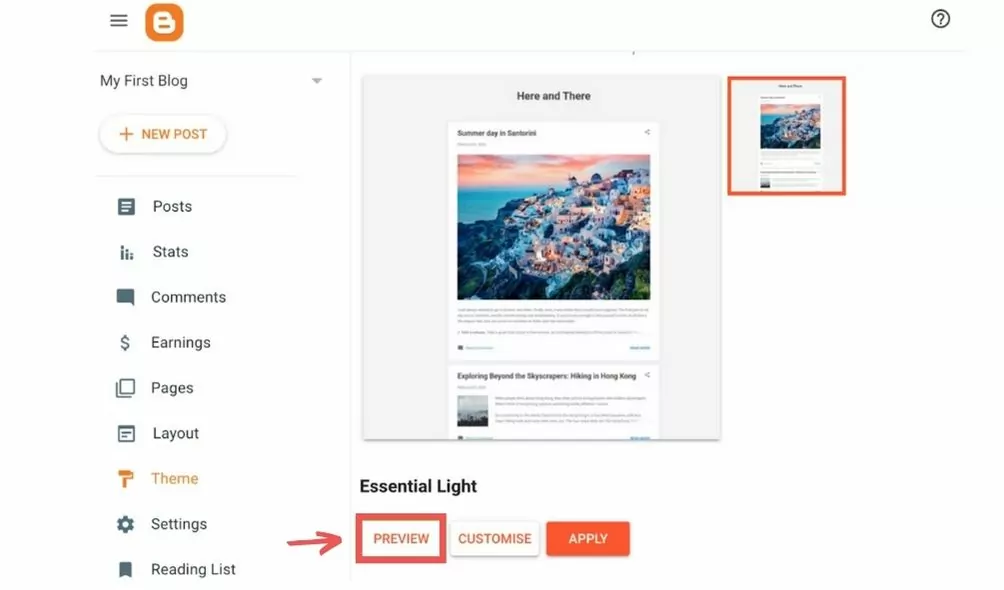 You can also purchase premium themes for your Blogspot blog if you want more attractive design and customization options.
Check if your blog visible to search engines
Here's how to check if your blog is visible:
Privacy settings
Go to Settings;
Scroll down to the Privacy section;
Ensure that visible to search engines is enabled.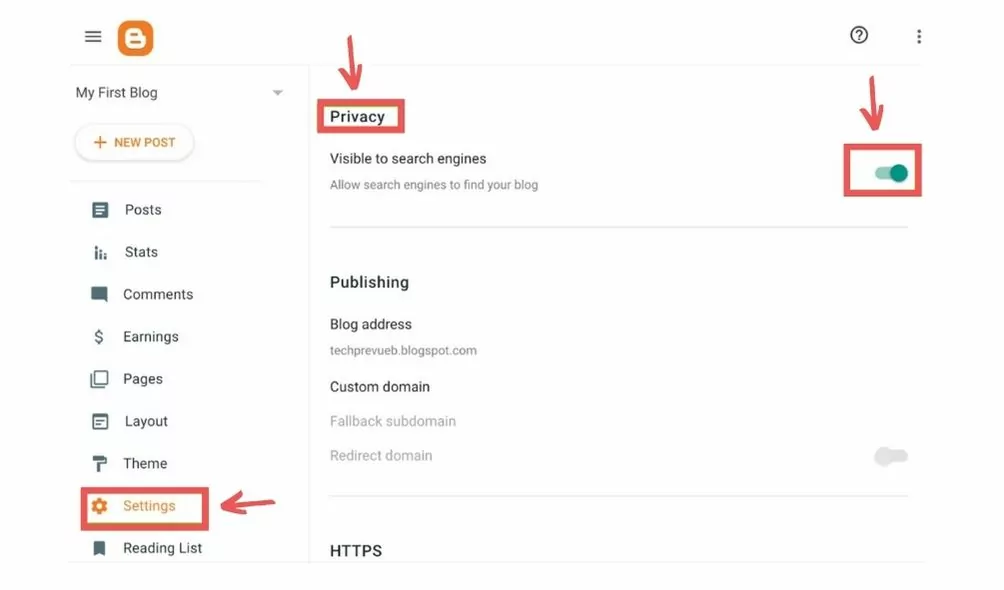 How to add a favicon?
A favicon is a small image in the browser's tab when you open a website. Follow these steps to change the default favicon on Blogger.
Go to Layout -> Edit Favicon;
Upload a square image that is less than 100 KB;
Click Save.
How to add a gadget?
Use gadgets to display your archive, show labels in a list, or show your profile on every page.
Go to Layout in the left menu;
Click Add a Gadget in the area you want to change;
Select the gadget in the pop-up window and click Add Add;
Click Save in the lower-left corner;
Click Edit to change a gadget's settings.
How to create new pages for your blog
You can create pages for static content, such as "About" or "Contact" in Blogger. They can be displayed as tabs at the top of your blog or as sidebar links.
The first step is to display your pages.
Log in to your Blogger account;
Choose your blog from the drop-down menu on the top left;
Select Layout from the left-hand menu;
Click Add a Gadget in the section where you want your pages to appear;
Click Add next to Pages in the window;
Set up your page and then click Save;
Click Save Save in the bottom-right corner to save the arrangement.
TIP: Drag the gadget to a new location to change where your page appears.
Important: The number of pages you can have in a single blog is unlimited.
Create a new webpage
Log in to your Blogger account;
Choose your blog from the drop-down menu on the top left;
Select Pages from the left-hand menu;
Click New Page in the upper left corner;
Fill in the blanks with a page title and other details;
Click Save, Preview Page, or Publish in the top right corner.
Create a page that includes a link to another website
Choose a blog from the drop-down menu on the top left.
Select Layout from the left-hand menu.
Click Edit next to "Pages" in the "Page List (Top)" section.
Click Add external link under "Pages to show.";
Save the link and then Save after entering the page title and URL.
Choose which pages to display
Select Layout from the left-hand menu;
Click Edit in the "Pages" section;
After selecting the pages you want to show, click Save;
Click Save Save in the bottom right corner to save the arrangement.
Add labels
You can add labels to your post. Your post's label is another term for its category or tag. On the blog post, these labels are visible. When a reader clicks on a label, a page with all of the posts with that label appears. You can use a label gadget in Blogger to add labels to your blog's sidebar. It will make it easier for your readers to read all posts with the same label.
Add labels in the sidebar's Post settings;
Select Labels from the drop-down menu. A box will appear where you can enter labels;
Add labels to the post that are relevant to it.
Set the desired permalink structure
You can change the permalink to your blog post. Under the Post settings, you'll find this option;
Select permalink from the drop-down menu. There are two options: automatic and custom permalinks;
To keep your blog post URL short and user-friendly, use the custom permalink option.
Preview and publish
Before publishing your blog post, you can see a preview of it. To do so, go to the top right corner and click the Preview button.
If the post preview appears to be perfect, click the Publish button.
How to publish a page on Blogspot?
On Blogspot, you can create a page and add it to your blog. You can make various types of pages, such as about me, contact us, privacy, disclaimer, and so on.
From the left-hand menu list, select the Pages menu item;
Then select New Page from the drop-down menu;
Type in the title of the page;
Add content for the page;
You have the option of turning off reader comments on the pages;
Take a look at your page before publishing it.
Switch to a custom domain
We have seen how we choose a free Blogspot domain name suffixed with the keyword Blogspot above; however, if you wish, you can purchase a custom domain and add it to Settings » Basic. Select Add custom domain and enter the domain name you purchased.
Traffic statistics for your website
By going to Statistics » Overview, you can see the status of your website traffic in real-time. It will display traffic sources, audience and more information. You can see which posts/articles/pages are getting the most traffic and for which keywords.
Go to Templates » Edit HTML to change your current template. If you want, you can also include scripts in the header and footer.
Monetize your Blogspot blog
There are two ways to monetize a Blogger based website or blog
and also a website that can pay you every day for each visitor to your site.
Place ads through Blogspot theme - use theme settings when you need ad units to appear on every page of your site;
Place ads on a separate blog post page – this method can be very helpful if you want to try a new format or leave some pages ad-free.
Check down our step-by-step guide that will show you how to monetize your Blogspot-based website or blog using the Adsterra ad format. You can also use these tips to make money from advertising, no matter where your business is and whether you've built a reputation or are just starting to plant those seeds of trust.
How to add ADS to your website